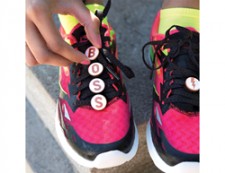 Dynamic Montrealers invent and make Ziggit clip-on cool fashion
Online, March 20, 2016 (Newswire.com) - Founder Cindy Taylor, and co-founders Gilbert Rémillard and Moh Azab, were inspired to bring concise and colourful online messaging trends from the internet to the streets, so they founded Ziggit in 2015. Proudly born in Montreal, the stainless steel Ziggit and Zicon emoji clip-on accessories allow people to customize anything from a shoelace to a bra strap with fun and expressive letters, numbers, and symbols with original fonts and emoji designs.
Visiting Ziggit's new website is, appropriately, just as out-loud and engaging an experience as walking down the street sporting Ziggits on sneakers that spell out the word "boss," or perhaps literally wearing a heart on your sleeve. Visitors can scroll to the bottom of the homepage to find a veritable Rubik's cube of vibrant and inspiring images and quotes, many of them portraying innovative uses of Ziggit and Zicon clips, in case ideas are lacking.
"It's like texting, but without a phone," says Taylor, who, along with her partners has spent months planning and working with their design team to dream up The Originals, the first collection of fashion-forward Ziggits and Zicons offering anyone the opportunity to be as unique, exclusive, or zany as they please.
"What we wear should be a statement of our individuality. And our product allows you to personalize your style and express your individuality," says Taylor.
The slick little fashion statements are now available for purchase online and come in a variety of stylized, ready-made kits with three different colors to choose from. They can also be purchased piece-by-piece, and for those who know exactly what it is they want to tell the world, the site allows customers to type in any message they want, to create their very own custom Ziggit kit. They also offer an entertaining array of multicolored Zicon emoji clips with which to punctuate any statement. Either way, Ziggit will shift the conversation from keyboard to clothing.
Source URL: http://prweb.com/releases/2016/03/prweb13264710.htm
Share: